The Compact Pro High Bay by Lithonia Lighting™ is the budget-oriented high bay designed for contractors from the ground up. It's the most compact high bay on the market, making it easier and quicker to install. Built with quality to last and performance to get the job done. At the price you need to win.
Save Time, Save Money, Without Compromising Quality
Watch this video to learn how Compact Pro redefines the High Bay Industry!
Small Design, Big Savings
The ultra-compact size and innovative packaging makes for a quick and easy install, saving you time and money!
Reduces install time and labor by >30%
Reduces packaging waste by >75%
Ships with up to >140 units per pallet
Switchable Lumens and Color Option
12 Configurations in 2 SKUs...
- Size 1:

Option 1: 4000/5000K - 12,000/15,000 Lumen Switching
Option 2: 4000/5000K - 12,000/15,000/18,000 Lumen Switching
- Size 2: 4000K/5000K – 24000/27000/30000 lumen
Optimized Unit Pack
Fits 3x more on a lift saving both time and money
Job Pack
Contractor-Friendly Job Pack
Ultra Compact Size, Full Scale Performance
30-50% smaller than typical high bays without sacrificing performance
Glare Reduction Optics featuring White Optics® Technology allowing for maximum light output while reducing glare
Meets DLC 5.0 and 5.1 UGR glare ratings
Compact Pro
Typical 2ft / 4ft High Bay
* True one for one replacement of a typical 2ft high bay
Unlike most 'budget' high bays on the market, Compact Pro doesn't cut corners when it comes to quality, designed with key ratings and specs needed for real industrial spaces.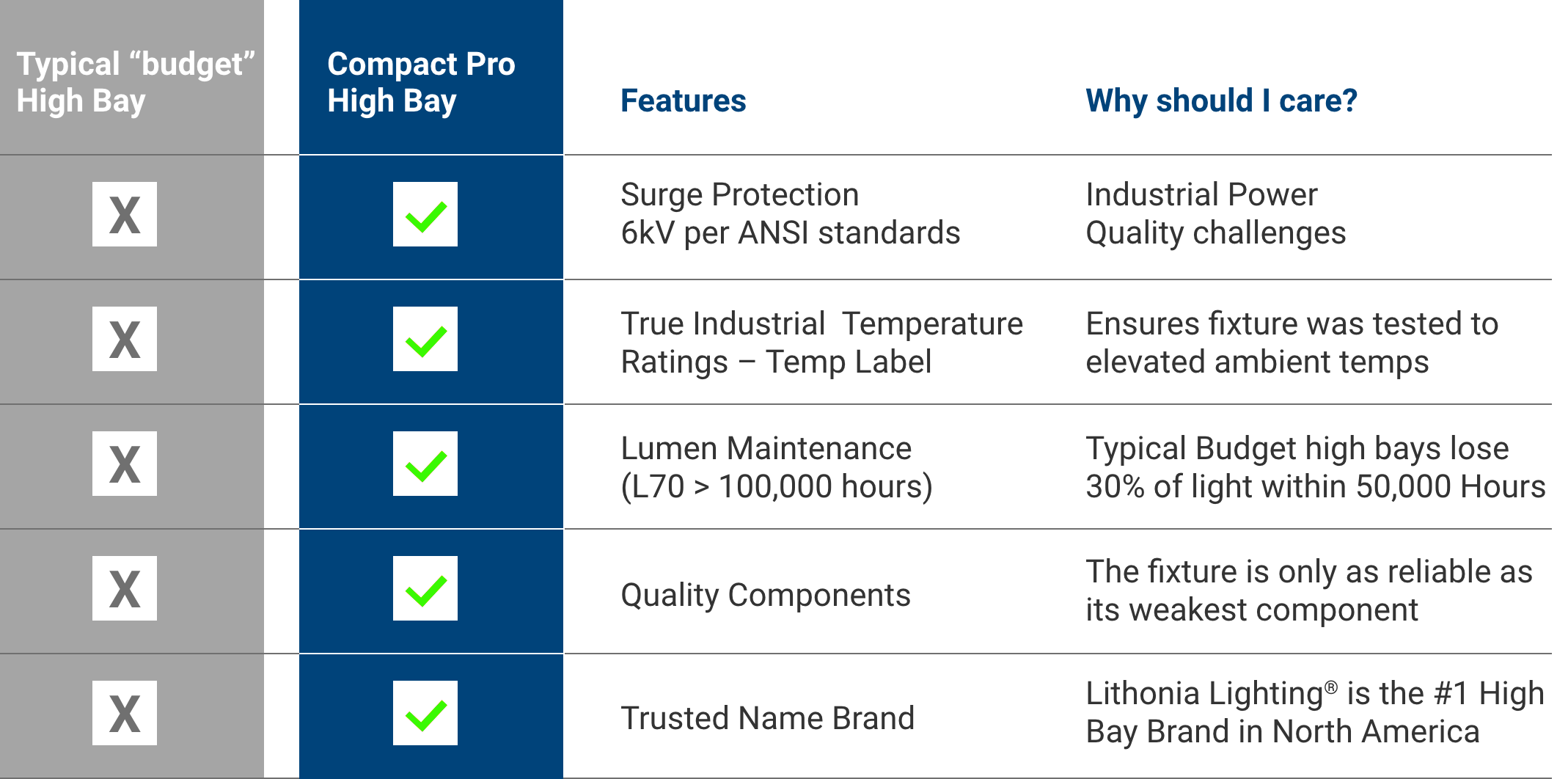 nLight® is a sensor-based network digital lighting controls system that offers wired and wireless lighting controls, easily connecting fixtures, sensors, and other control devices to create a digital network. The nLight platform of products enables ease in specification, installation, and ownership, making it the go-to digital lighting controls platform for specifiers, contractors, and building owners.
nLight® AIR wireless lighting controls are a smart solution for simplifying installation and aiding in energy code compliance.
Simple as 1,2,3

Install the nLight® AIR fixtures with integrated smart sensor
Install the wireless battery-powered wall switch or nLight AIR enabled battery powered ceiling mount senso
With our CLAIRITY™ Pro app, pair the fixtures with the wall switch or remote ceiling mount sensor and if desired, customize the sensor settings for the intended outcome
Benefits of nLight® Lighting Controls in Industrial Applications
Savings
Achieve energy and labor savings as well as rebate potential
Easy to Use
The nLight AIR integrated sensor is an occupancy sensor and photocell that works out of the box; use the CLAIRITY™ Pro app to adjust sensor settings
Scalabilty
Configure the light you need and easily scale from one room to multiple sites with the nLight platform
Aids in Code Compliance
Set light levels in a given space as defined by the specific building code (when entering or leaving a room, as an example)
Standalone *Bluetooth® programmable channel embedded controls with Haleon BTP from SensorSwitch™
Additional standalone control options available with the SensorSwitch LSXR fixture mount occupancy sensor
Which Lithonia Lighting® High Bay do I need?
All available with nLight® AIR wireless controls
* The Bluetooth® word mark and logos are registered trademarks owned by Bluetooth SIG, Inc. and any use of such marks by Acuity Brands is under license. Other trademarks and trade names are those of their respective owners.